Welcome. We here at Lazy Bar T Outfitters take great pride in our hunts. We will go out of our way to provide you with nice accommodations and a fun, exciting opportunity to harvest a trophy animal. You will experience some of Utah's most beautiful mountain country. We want you to feel like a hunting partner, not just a client. It's your hunt, your way.
We attend conservation banquets throughout the year for organizations such as Rocky Mountain Elk Foundation, Mule Deer Foundation and Sportsmen for Fish and Wildlife. There are conservation tags available at these events that are auctioned off to the highest bidder. This money is used on wildlife projects here in Utah. These tags are tax deductible for the buyer and, if successful, guarantees the buyer a tag for a Limited Entry or Premium unit without having to draw a tag. We can assist you in buying one of these tags. We can also help you apply for the yearly big game draw, usually held in February.
All guided hunts are conducted on U.S. Forest Service and BLM administered lands under SRP permits.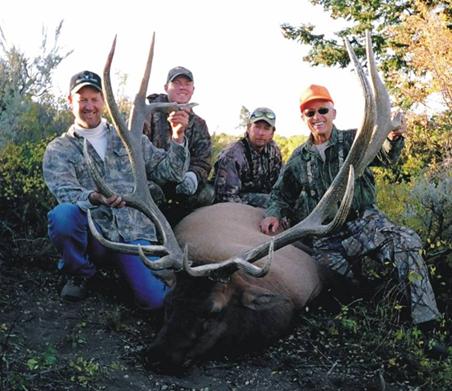 396" Gross
"I can't tell you what a great time I had hunting with you. Your scouting and knowledge of the area certainly paid off. Thank you for locating such a magnificent bull!
You have given me the hunt of a lifetime!

Thanks for everything—looking forward to hunting with you next year"

Jack Stethem
Filmore, CA